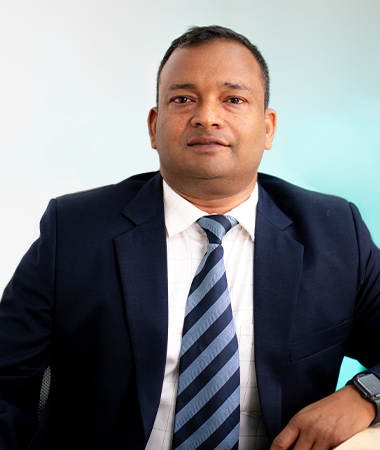 Sunil Pathak
(FCA, CIA, BFP, ACA, ACS, MCSI, IP, ID, RV, LLB)
Hi, I am Sunil Pathak and would like to introduce myself as a wanderer in this beautiful journey of life, born in 1978 to humble parents in Lalgarh (Palamau), Jharkhand, India.
My initial days of childhood was all about being pampered, perhaps those were the best times of my life. Getting loads of attention from my beloved mother and fountains of academic knowledge and wisdom from my father was what my daily routine looked like. Well, that was my comfort zone from which I was pushed out soon. At that time, it was agonizing but it was only later in life when I grew up a bit that I realized that it was the foundation of a great life ahead. My father was a school teacher in a nearby town, I joined him to start my academic journey being separated from my mother. Although I cleared my matriculation examination with flying colours, all these years of separation from my mother left a void in my life that has not been filled to date.

I believe the years of exile as Lord Rama experienced has a huge impact on human life, and so do I hold. At the age of 14 years I lost Maa, now just left with her memories. My first casualty- that led to the kickstart to early maturity and immunity to this big blow of life, led me to introspect every aspect personally & professionally.

Reaching New Delhi, a milestone that helped me in completing my senior secondary education and Bachelors (Arts) from Delhi University.

During 1994, Company Secretary course was considered an elite professional and academic domain and was considered a hot pursuit, and as life was moulding me, by now I started welcoming the challenges with open arms, however, deep down my subconscious had no window for any further loss. A single parent surely has a huge influence, so did Bauji has, he preached that education is the biggest tool which can help you fight every battle. I acquired the qualification of Company Secretary, Chartered Accountancy, L.L.B. at the same breadth. After gaining an experience of a few years in the corporate hierarchy, I served as a CFO, at the age of 29 years.
"Wealthedge" my own venture boomed along with tremendous other responsibilities protruding from all sources & poles. The journey of entrepreneurship was not a smooth path, with too many obstacles & windy roads. However, a thorough planning & due diligence led to the aspired island within a couple of years.
The high and low tides eventually transformed me to introspect various macro & micro aspects to overcome any obstacles that came along and in due course of time, my credibility grew stronger professionally & personally both for me and my company Wealthedge.
Today with a growing economy and changing regulatory requirements, it's imperative to upgrade oneself and be relevant in any such profession where continuing education is mandatory. In addition to various other short term professional certification, I upskilled myself with Insolvency professional and registered Valuer certifications from Insolvency and bankruptcy board of India, in line with changing requirements of prevalent laws.

The year 2020, changed the economical and the financial overview of life for many and not being an exception to these difficult times, I assessed that my energies as a management consultant were pushing me to commence into the next course of journey. I am indeed privileged to hold an experience of both sides of the coin & understand the rollercoaster ride of a startup.

The pleasure of taking risks to fly independently and to ensure the passenger plane sails through without turbulence is tremendous and so is the pride we derive on employing needy personnel and training them to be capable professionals in their career path. With this holistic professional experience which I have acquired over the years, I thought of building a platform for aspiring entrepreneurs to help them sail through hard times and assist them to make the right decisions at the right time.

With this objective in mind to share my insight on Startup ecosystem, Corporate financials, Regulatory and legal affairs, which are prevalent today, I hereby introduce a guide to decoding Finance "FIRST 1000 DAYS OF STARTUP". The inception of the book & the title arose with my professional qualification, traditional wisdom and experience as a management consultant to various industries and businesses. I have sincerely attempted to be as lucid as I can so to handhold you through the unseen path & eradicate any misleading routes.

Wishing you a Happy Entrepreneurial Journey.

Sunil Pathak