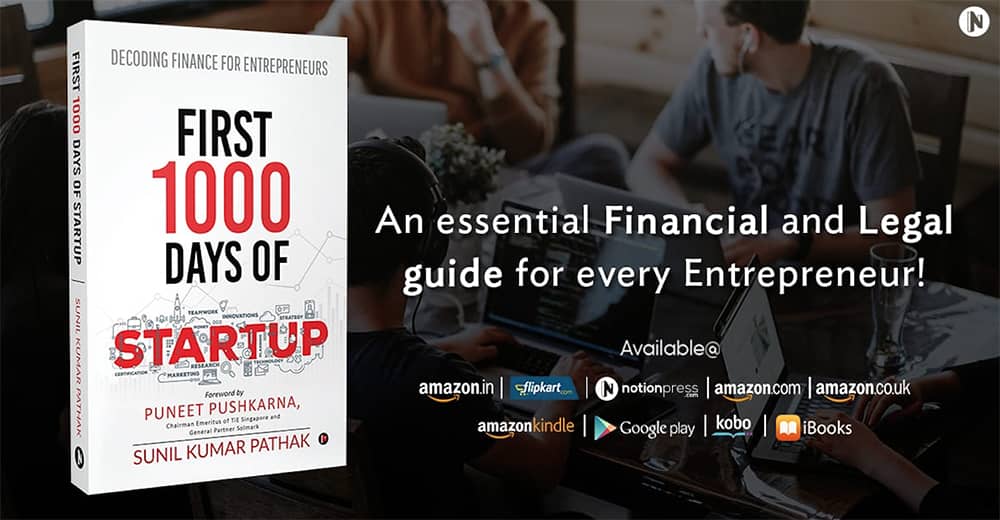 Finance is said to be the blood of every business. Efficient Financial Management is crucial for the long term withstanding and flourishing for any business owner, especially for new entrepreneurs. Notion Press, India's leading self-publishing platform presents- 1000 Days of Start-Ups by Sunil Pathak, a guide that decodes Finance for Entrepreneurs.
This book shall prove to be a long term knowledge partner in every entrepreneur's growth trajectory. Small and medium business tend to face budget constraints during initial years, to have a full time finance and legal resource to bounce off new ideas, processes and vision. This book will act as your financial advisor as and when you need it the most.
The primary objective of the author is to share his practical knowledge of financial and legal affairs, with all the readers and create adequate financial awareness among them for facilitating an informed decision making. This book may not be a solution to your present financial problems and technical intricacies of financial management, but it will definitely provoke you to think in the right direction resulting in right action at the right time.
Sunil Pathak is a practicing fellow member of the Institute Of Chartered Accountants Of India. He is also a member of the Institute of Company secretaries of India. Along with being a law graduate, he is also an Insolvency Professional and a registered Valuer with the Insolvency and Bankruptcy Board of India. He is an enterprising leader and finance expert with years of experience in the fields of Financial Management, Accounts, Audit, Taxation, Fund Raising, Due Diligence, enterprise valuation, business Planning and Resource Management. Sunil launched Wealthedge Financial Advisory, his financial advisory company in 2009 post his decade old corporate career as Finance professional.
He has held various managerial and executive positions in gamut of commercial and taxation functions across Industry verticals. His specializations include Business structuring, financial planning, Operation Design and SOP, Internal Controls, audits, due diligence, valuation and MIS. 
Sunil has been mentoring several startups for the past 10 years and has been immensely contributing to corporates as a Growth Advisor and a Management Consultant.

You can now grab your copy of 1000 Days of Startups by Sunil Pathak on the Notion Press online store!